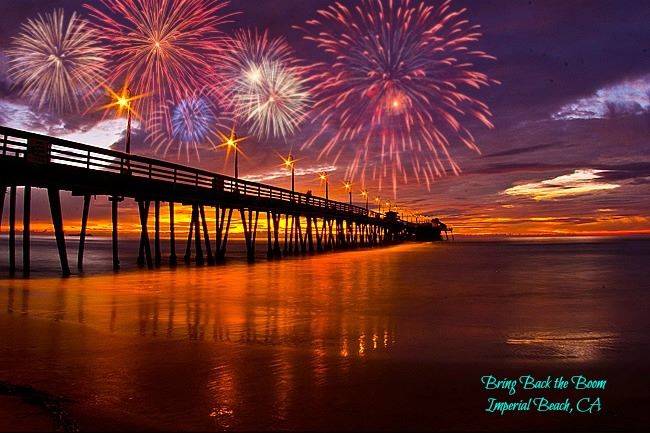 PHOTO CREDIT: MIKE GOODMAN PHOTOGRAPHY
Imperial Beach residents will be enjoying fireworks again this Fourth of July! The display, being shot from the IB Pier, will begin around 9 PM to insure maximum visibility with the benefit of darkness. You can view the fireworks on the beach from Imperial Beach Blvd. to Palm Avenue, facing the end of Portwood Pier, so gather your friends and family, bring a picnic or grab a snack from neighboring businesses, then spread your beach blanket early to claim some space and catch all the action. Be sure to tune into KyXy Radio 96.5 FM at 9 PM for a synched music playlist set to the fireworks show!
Be sure to stick around after the fireworks display for music at Imperial Beach Pier Plaza!
You can help keep this tradition alive.

The City of Imperial Beach is processing donations for Fireworks in partnership with IHeartIB.org. Donate towards our community fireworks display (Link below).

It is community events such as this that have built the ties and bonds we share with our friends and neighbors. The 4th of July Fireworks show is part of the fabric that is Imperial Beach and helps foster community pride.
http://www.imperialbeachca.gov/index.asp?Type=SUPERFORMS&SEC={7338CC78-4D0E-4126-9101-A31543B7F207}&DE=